"Hiburi-Kamakura" tells the remnants of Sagicho of court events,
Satake north house is a traditional event of Jeongwol that has been done from the era.

Got the fire from the stove to the sack for charcoal,
Turn around the body in bales marked with the fire. ,
Cleanse themselves and the earth by bales of fire,
It is a traditional event to pray for good health, good harvest, wife safety.

Venue: Kakunodate town dozens of places
Date and time: Reiwa 3 February 14 (Friday) 18 am -

◎ to come for sightseeing everyone
Reiwa 2 fiscal year will be held with a reduced scale. Tourism Hiburi-Kamakura experience towards the customers who now can not take place because of the infection to prevent the spread of the new coronavirus infection. Also, you can not your beverages at the venue.
Viewing and photography, I hope in a relatively main venue for large venues.
After conducting the infection prevention of the new coronavirus infection, please come.
For more details, please do not coming after you can see the Semboku City HP.
Semboku City HP "Kakunodate Hiburi-Kamakura"

☎ Contact: Semboku City Tourist Information Center "Kakunodate Ekimae-Gura" TEL 0187-54-2700
By the situation of the new coronavirus infection ※, you might stop by the venue
The following venues will have to determine held. (From the following town MAP)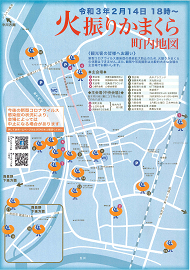 (PDF2.50MB)



※ The image is an image at the time held last year