You can enjoy the whole Semboku City at a great price!
Semboku City Premium
Souvenir ticket for

Tazawako

and

Kakunodate
At designated sales locations in Semboku City
A souvenir ticket worth ¥5,000 can be purchased for ¥3,500!
Limited to those who come to Semboku City! ✔ Please refrain from using Semboku citizens.
In addition, a limited gift for guests
Get one 1,000 yen ticket for each purchase!
* Only those who purchased during the travel period are eligible.
(Example) If you stay overnight at an accommodation facility in Semboku City on July 15th, the purchases made on July 15th and July 16th will be eligible for gifts.
Sales and usage period ▶

From July 15th (Friday) to September 30th (Friday), 2022!
◆ Souvenir fee ◆ Experience fee ◆ Admission fee
   Not available ◆ Accommodation price ◆ Food and drink price ◆ Take out ◆ Bath charge ◆ Pleasure boat fare
⚠️ Only souvenirs can be used at restaurants, and can be used at shops at accommodation facilities.
◎Sales location◎
Semboku City Tazawako Folake"
◆ Nyuto Onsen Association (in Kyukamura Nyuto-Onsenkyo )
Akita Kakunodate "Nishinomiya House" ( Kakunodate Kakunodate )
◆ Mitsumori Oil Co., Ltd. ( Tazawako Plateau Entrance)
◆ Semboku City Tourist Information Center "Kakunodate Ekimae-Gura"
Kakunodate Kakunodate Kabazaiku Densyokan(Kakunodate Samurai House Site Area)
◆ Nishiki Tourist Information Center (inside Semboku City Hall Nishiki Office)
◆ Nishiki Onsen Fureai Plaza Kurion
* It will end as soon as it runs out
◎About purchase ◎
◆ Please fill in the purchase application form and present your identity verification documents at the counter when purchasing.
◆ It will be sold as a set of 5 at 1,000 yen each.
◆ Purchase is limited to ¥35,000 for 10 sets per person, and proxy purchases are not allowed.
◆ Sales will end as soon as the stock runs out.
Please see the flyer for details (PDF data)▼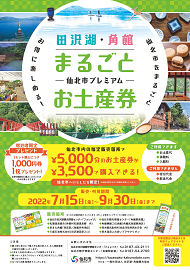 (761KB)
List of affiliated stores (PDF data)▼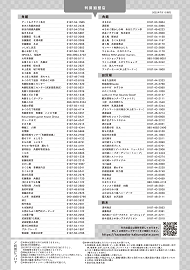 (846KB)​​​​​
■The following facilities have been added as member stores. (Not shown on flyer)
▶ Tazawako Lake Resort ℡ 0187-46-2016 (Added 7/15) Tazawako Area
▶Suzuya Flower ℡ 0187-46-2235 (8/3 added) Tazawako area