Notice of recruitment of exhibitors for

"Akiiro Komichi in Kakunodate"

!

!
Things that are good for your heart, things that are good for your body.

We are looking for exhibitors for "Akiiro Komichi in Kakunodate 2023".
It will be the fifth time since 2016, when the "Akiiro Komichi in Kakunodate" pre-opening was held.
This year's event will be held on Saturday, October 14th and Sunday, October 15th.
Last year's event, which was held for the first time in four years due to the typhoon and the corona disaster, was blessed with good weather and many customers visited.
We will prepare for the event again this year, so that it will be a place where creators from all over the country can convey the charm of making things, and that many customers will enjoy it.
We are looking for a wide range of creators who will convey the charm of their works at the venue of "Akiiro Komichi in Kakunodate 2023" Ochiai Sports Park Cherry Blossom Trees.
At the same time, we are also looking for food vendors who will make the venue even more fun.
We look forward to receiving many applications.
Application period: May 15 (Mon) to June 30 (Fri)
*Please check the application requirements and choose either [Craft Category] or [Food and Beverage Sales Category],
Please proceed to the application form from the following link "Akiiro Komichi Homepage".

Overview of the 2023 event
Date: October 14, 2023 (Sat) 10:00-16:00
October 15 (Sun) 9:00-15:00
Rain or shine (canceled only in case of stormy weather such as typhoons)
♦Venue: Ochiai Sports Park, Cherry Blossom Trees
(55-27 Nishinogawara, Kakunodate cho, Semboku City, Akita Prefecture)
♦Scheduled number of exhibitors: 70 shops in the craft section, 15 shops in the restaurant sales section
Application guidelines (PDF data) ⇊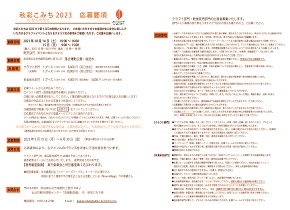 (Overall A3/559KB)
Akiiro Komichi Homepage
Please apply from

[application form]

⇊



*For those who cannot use the application form, there is an application form at "Kakunodate Ekimae-Gura".
*In the case of a large number of applications, the selection will be made after considering the balance of the departments.
Please forgive me.
Akiiro Komichi Executive Committee Secretariat 〒014-0369
397-2 Kamisugusawa, Kakunodate , Semboku City Prefecture
Semboku City Tourist Information Center "Kakunodate Ekimae-Gura" TEL 0187-54-2700 FAX 0187-54-1755
E-mail kakunodate@akiiro-komichi.com