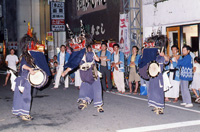 It is said that the people who served taught each village when Satake changed his country, but it seems that he was able to do it together with the dance.
Shimokawara Sasara (prefectural designated intangible folk cultural property) is a smaller scale, exactly the same work, and Donoguchi Sasara is known for its liveliness and courage.
The auspicious book, which describes in detail the reasons and circumstances for starting the Sasara dance in the Shiraiwa region during the Edo period, is extremely different from the auspicious book taught to Kunimi and is extremely valuable.