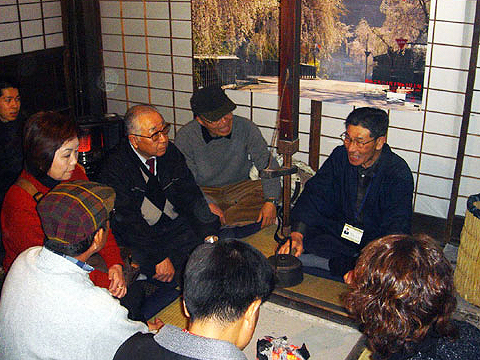 [Currently discontinued]
Click here for inquiries ⇒ FAX: 0187-55-1680
✉ info@kakunodate-annai.jp
* In many cases, the telephone cannot be connected, so please contact us from the above.
We will show you all the charms of the town that you can not know from the guidebook.
We accept from one person, so please feel free to tell us.
---
■

Information course

Uchimachi (Samurai Residence) Course (90 minutes)
An inner town covered with deep trees and lined with samurai residences. We will guide you through Samurai Town, centering on Omotecho and Higashi Katsurakucho.

* Meeting and starting place: Semboku City Kakunodate Birch Crafts Tradition Hall Hall

Tomachi (merchant town / temple) course (90 minutes)
Tomachi, a merchant town where the town division hasn't changed much for more than 370 years. Here's another face of the lesser-known Kakunodate.

* Meeting and starting place: Semboku City General Information Center or Semboku City Hall Kakunodate Government Building entrance.
---
■

Reservation destination

* Please make a reservation 3 days before 5 pm.

・ Kakudate History Guide Association Secretariat [TEL 0187-55-1670]
6-1 Higashi Katsurakucho, Kakunodate-machi, Semboku-shi, Akita 014-0325 FAX 0187-55-1680 ✉ info@kakunodate-annai.jp

・ Semboku City Tourist Information Center "Kakunodate Ekimaezo" [TEL 0187-54-2700]
394-2 Kamisugazawa, Kakunodate-machi, Semboku-shi, Akita 014-0369 (in front of Kakunodate station)
FAX 0187-54-1755