"Yobunoru Kakunodate" is from any place in the service area to any place.
It is a shared transportation service that operates when a customer makes a reservation!
You can feel free to use it not only for sightseeing but also for shopping and going to the hospital.
■ Free boarding and alighting section!
● Boarding / alighting locations outside the free boarding / alighting area: "Kakunodate Onsen Kayoukan Co., Ltd" "Farm inn Green Wind"
"Farmer's inn" Tate "" "Akita Art Village Geijutsumura" "Semboku Workplex" "Onsen Yupopo Yupopo" "Dakigaeri Dakigaeri Valley"
* You cannot get on and off in the middle of the "free boarding / alighting area" and the above boarding / alighting place.
* Boarding / arrival times may change due to the possibility of sharing with other passengers.

[Operating period]
May 17th (Tuesday) -March 31st (Friday), 2023
[Operating hours]
8:30 to 17:30 (Reservable time is from 8:00 to 17:00)
* Reservations can be made on the day of use and the next day.
[Fare]
300 yen per person (uniform for adults and children)
◆ Payment method ◆
① When making a payment in advance on the TOHOKU MaaS website
⇒ Credit card or mobile Suica
② When paying in the car ⇒ Cash or Suica payment
[Reservation method]
▶ Book by phone

070-7051-6172
▶

Book

online
TOHOKU MaaS WEB site * Membership registration is required.

Click here for details on how to make a reservation on the Web ⇊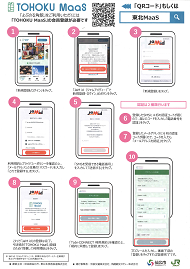 (PDF: 533KB)
Click here for the leaflet of "Yorunobu Kakunodate" ↙↙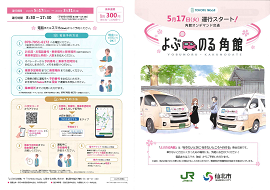 (PDF: 336㎅)
Service area map (PDF data) ↙↙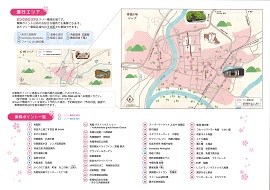 (PDF: 308㎅)