This year marks the 35th anniversary of the sister lake relationship between Lake Tazawako in Semboku City and Lake Choseiko in Kaohsiung, Taiwan.

Event "I want to go to Taiwan!"
The highlight of the event is a lecture by Tae Hitose, a writer and actress.
She is the older sister of Yo Hitoto, a singer who is familiar with the song "Hanamizuki", and is half Japanese and Taiwanese.
The venue is a space where you can enjoy Taiwanese culture with all five senses. Please come by all means.

Date: October 22, 2022 (Sat) 10:00-16:00
◆Place: Omoide-no Kata Branch School (226 Ichinowatari, Tazawako Tazawagata, Semboku City , Akita Prefecture)
◆ Admission fee: 200 yen (high school students and above)

◆Event Details 〇【13:30-15:00】
Half-Japanese and Taiwanese writer/actress Choseiko Miao Lecture "Two Keys Connecting Semboku City and Taiwan"

〇【10:30-12:00】
Taiwanese Tea Tea Party Lecturer: Mr. Tsukasa Takahashi, Kochuten In addition to enjoying Taiwanese tea slowly, we will also give a lecture on how to brew tea and how to store tea leaves.
The tea on the day will be Fengding Oolong Tea, Oriental Beauty, Sun Moon Lake Black Tea, Lishan Tea, etc., and the tea will be mala khao (Chinese steamed bread).

〇 [all day]
Photo exhibition of Choseiko, restaurant stalls, book exhibition, miscellaneous goods sales, hands-on play

*Eating and drinking establishments:
Taiwan Tavern/Kakuni Burger (Kanbao)
Pai Taro / Pineapple Cake
SHARE/tapioca, fruit tea, etc.
Please see the flyer for details⇊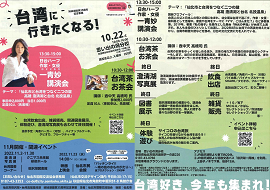 (4.38MB
)
Click here to download on your smartphone/tablet

Organizer: Semboku City International Exchange Association Supported by: Semboku City
Sponsored by: Taiwan Tourism Bureau
inquiry


81-8 Nakasugusawa, Kakunodate -cho, Semboku City , Akita Prefecture 014-0392




Exchange Design Division, Tourism, Culture and Sports Department, Semboku City(Responsible: Huang Min, Taguchi)




Phone: 0187-43-3353/FAX: 0187-55-1515


E-mail: co-de@city.semboku.akita.jp