■ Schedule
Reiwa , February 14, 2020 18:00-20:00
■ Event details

The Hiburi-Kamakura event in Kakunodate cho, Semboku City City is a magical festival in which splendid rings of fire dance in the snow.
The festival begins with burning firewood in a stove made of snow, then wrapping rice straw around a long tree about 5 meters high and setting it on fire to set up in the snow. I wish you a safe year.
For the hiburi, a 1-meter long rope is attached to a bale of charcoal, and the bale is set on fire from the stove.
And this time around 18:30~19:00 there will be a fireworks display!
*The fireworks to be launched at this event are being carried out using the "Regional Revitalization Extraordinary Grant for New Coronavirus Infectious Diseases".
■About the venue
For the Reiwa Hiburi-Kamakura, we are planning to hold the Hiburi experience for tourists at the following main venues.
In addition, as of December 12, the implementation venues for Reiwa are as follows. (Subject to change in the future).

○ Hiburi-Kamakura main venue (9 venues)
East Venue (East)
West Venue (Sakuramicho)
South venue (Iwase)
North venue (North)
Yamane Town Venue
Nishikakurakucho Venue
Central venue (Yokocho)
Central venue (Nanukamachi)
Central Venue (Second Ward, Nishikatsura-cho)

○ General venue (13 venues)
◎ Hiburi-Kamakura town map◎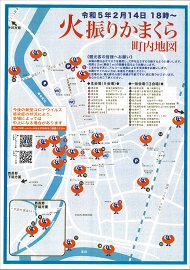 (PDF3.22MB )


* You can check the approximate location of the venue on GoogleMap.

Pins are blue for the main venue, orange for other venues, purple for fire-only events, and gray for non-events.
Measures to prevent the spread of new coronavirus infections
If you are visiting, please be sure to wear a mask and act without shouting.
Please keep a distance of 2m (at least 1m) from other people.
Please wash your hands frequently and disinfect your hands with alcohol disinfectant.
If you are not feeling well, please refrain from visiting.

*In the future, if new rules are announced by the national government, Akita Prefecture, or Semboku City, the organizer (Kakunodate Tourism Event Executive Committee) will consider the possibility of changing the implementation details and corona countermeasures. Please note that there are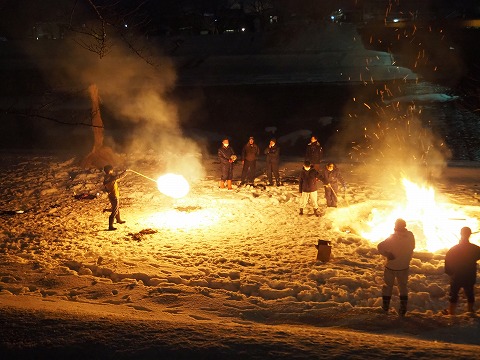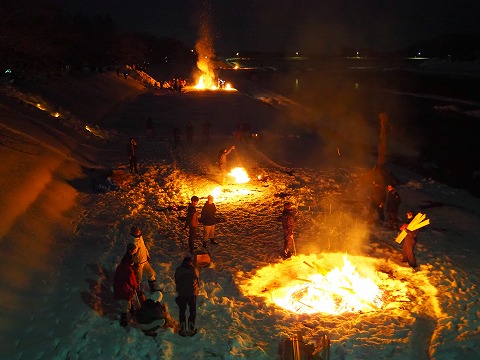 ■ Link/Download
・Sightseeing information: Hiburi-Kamakura(city-designated intangible folk cultural property)
■ Contact information
Semboku City Tourist Information Center "Kakunodate Ekimae-Gura" Phone: 0187-54-2700
Semboku City Tourism Division Telephone: 0187-43-3352