While feeling the faint footsteps of spring…"Kakunodate Hina Meguri"
Kakunodate has a long history, including Kyoho-bina and Kokin-bina old hina, which have been carefully handed down from generation to generation.
Many Oshie-bina dolls and earthen doll dolls remain.
✿Enjoy the colorful "Hina Gozen" and "Hina sweets " associated with Hina dolls.
* For details of "Kakunodate Hina Meguri 2023" ,
Please see this pamphlet (PDF data)⇊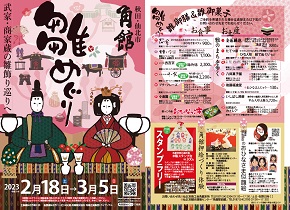 (PDF1.98MB)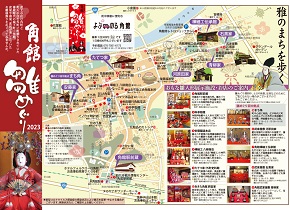 (PDF1.72MB)
[Kakunodate Hina Meguri Poster] ⇊PDF299KB⇊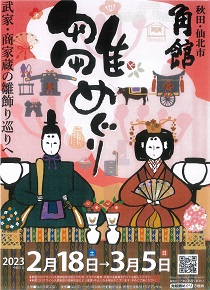 ◎ Hina Meguri Period: February 18th (Sat) to March 5th (Sun), 2023

◆ Main venue: Kakunodate town development regional management body "Machikado" 10:00-16:00
014-0316 29 Iwase-cho, Kakunodate cho, Semboku City Prefecture
◆Event
・Kakunodate Oshie-making experience
<Date and time> February 25 (Sat) and 26 (Sun) 10:00-15:00
Additional holding decision March 4th (Sat) Limited to 15 people
<Experience fee> 1,500 yen
*You can take the finished product home in about 2 hours.
<Venue> Semboku City Tourist Information Center "Kakunodate Ekimae-Gura"
・Caricature for Doll's Festival
<Date> February 25 (Sat), 26 (Sun), March 3 (Fri)
11:00-16:00 (reception until 15:00)
<Colored paper small> 1,200 yen (per person)
* It will be added if there are two or more people on one piece of colored paper.
〈Venue〉 Kakunodate town development regional management body "Machikado"
・Stamp rally 〈Kakunodate Shinmeisha prayer wooden stamp stand〉
<Price> 330 yen per sheet
〈Sales location〉「Machi-Kado」・「Kakunodate Ekimae-Gura」
A stamp rally with benefits will be held during the period! Get a gift with 5 or more stamps! !

・Ohinakko Market
<Date and time> March 2 (Thursday) and 3 (Friday) 10:00-12:00
<Venue> Tatemachi Pocket Park *Ends when sold out


●Requests regarding the novel coronavirus infection●
Please cooperate with wearing a mask and disinfecting your hands to prevent the spread of infectious diseases.
Depending on the infection situation, the contents may be changed or the exhibition may be canceled.
*There are facilities whose exhibits are undecided. Please note that we will update it from time to time.
*Please contact us as the exhibition period may change depending on the circumstances of the store.



✿ "Kakunodate Hina Meguri Business" Pre-open store and exhibition period list

Exhibition facility/Exhibition period↓↓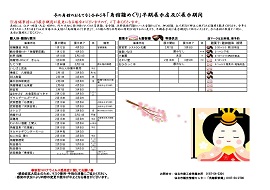 (PDF207KB)

✿Please use the exhibition store and meal (sweets) map (PDF data)⇊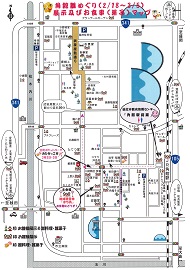 (PDF260KB)

◎Contact us◎

Semboku Commerce and Industry Association Kakunodate of Commerce and Industry Kakunodate Honjo ☎ 0187-54-2304 (9:00-15:00, excluding weekends and holidays)

Semboku City Tourist Information Center "Kakunodate Ekimae-Gura" ☎ 0187-54-2700 (9:00-17:30 during the period)