In Kakunodate Kabazaiku Densyokan for the new coronavirus infection expansion prevention,
Between Reiwa 2 April 11 (Sat) - May 6 days of (water)
It has decided to pause and pay exhibition of exhibition room building second floor.
In addition, since we pause to get the viewing fee,
It will be free of the occasion admission.
Demonstrations and tours, kabazaiku master craftsman exhibition by traditional craftsmen ※, shop, tea room, etc. Normal business
Upon admission, Please take a look, so we have provided the following content matters.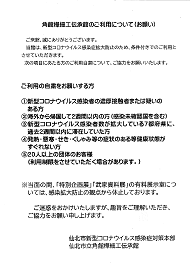 (37.6KB)