Semboku City, Akita Prefecture, Regional DMO General Incorporated Association Tazawako/ Kakunodate Tourism Association and East Japan Railway Company Akita Branch have signed a cooperation agreement on "Tourism Town Development" to promote further creation of tourism demand in Semboku City . increase.
This time, as part of the five senses farming business, which is one of the efforts of the cooperation agreement, we will introduce the charm of " Tsurunoyu Onsen ", a Nyuto-Onsenkyo village that is famous and popular nationwide, and how to take an effective bath every day. "Onsen and bathing course" will be held at 2 venues.
It will get colder and colder, but please come and join us for a fun event that warms your mind and body.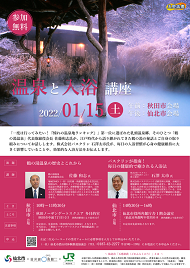 (968KB)
Date : Saturday, January 15, 2022
[ Akita City Venue ] Akita Northern Gate Square Multipurpose Room (7-1-2-3 Nakadori, Akita City)
_______ From 10:00 to 11:30 Capacity 20 people (limited to residents in Akita prefecture)
[ Semboku City Venue ] Semboku City Hall Kakunodate Government Building 1st Floor Meeting Room (81-8 Nakasugazawa, Kakunodate , Semboku City )
_______ From 14:30 to 16:00 Capacity 30 people
[Title ① History and future of Tsurunoyu Onsen]
Mr. Kazushi Sato, Chairman and Representative Director of Tsurunoyu Onsen
[Subject (2) Bathclin is instructing! Bathing method that is healed by daily health]
Dr. Fellow, Bathclin Corporation Tsukuba Research Institute (Pharmacy) Mr. Taichi Ishizawa
Participation application : Please apply by phone or reception form.
( Reception deadline: 12:00 on Tuesday, January 11)
Phone number: 0187-43-2277
( General Incorporated Association Semboku City Agriculture and Mountain Village Experience Promotion Council Weekdays 9:00 to 17:00)
Reception form ▷▷ https://forms.gle/5bc49MGbALoBp4Gb9