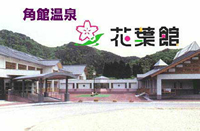 Kakunodate Onsen "Hanabakan" is a hot spring inn where you can relax from the bottom of your heart, surrounded by the green environment outside Kakunodate.
Located along National Route 46, the hot spring with a beautiful skin effect that springs from a natural source allows you to enjoy a variety of bathtubs such as open-air baths, mistakes and saunas.
As for the dishes, you can enjoy local cuisine using plenty of local ingredients and delicious Akitakomachi rice.
After strolling through the samurai residence full of historical romance, we would like to invite you to come to the healing inn, Hanabakan.