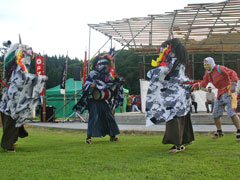 When you Kunigae Ko Satake is to Akita, it was transmitted.
To the system of tradition, rather than the sasara of the Kanto-based, southern and southern-based theory, which was conveyed to Tozawa through the treasure Sendai from Shizukuishi, when "some of billionaires young biased (wakashū) was taking a nap and went to the mountain, lion of dance of the look in a dream, there is handed down that it taught was ".
Lion head of the Southern system in wood carving surface of the small size, is the face of the deer dance system that remains much to like Iwate Prefecture.