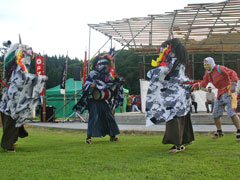 It was reported when Mr. Satake changed his country to Akita.
In the traditional system, instead of the Kanto system Sasara, the Southern system theory that was passed down from Southern Shizukuishi to Tozawa via Hosendai and "When a young man (young people) went to the mountain and took a nap, the lion's I dreamed of dancing and was taught by it. "
The southern lion head is a small wooden carved surface, which is a deer dance type surface that remains in many places such as Iwate Prefecture.