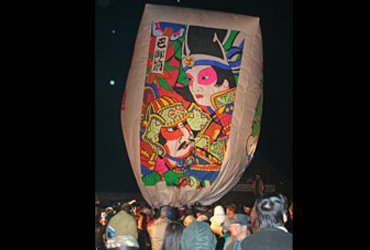 It is an annual event in which huge paper balloons with pictures of warriors and beautiful women are drawn and lit up in the midwinter night sky like glittering stars.
Nothing has written down the beginning of this event. Legend has it that Hiraga Gennai, a scientist from the Edo period, told him as a play that applied the principle of hot air balloons when he visited the technical guidance of a copper mine.
Previously, it was performed at the same time as "insect grilling" (which is made by stacking rice straw in a rice field and igniting it, also called "donto-yaki" or "tenburi") to pray for a good harvest and family safety, and it is regarded as a legacy of national beliefs. This event, which was temporarily suspended due to the war, was revived in Miyata in 1974 by the enthusiastic efforts of local volunteers in Kami-Hinokinai, and became a winter tradition that represents Akita Prefecture.