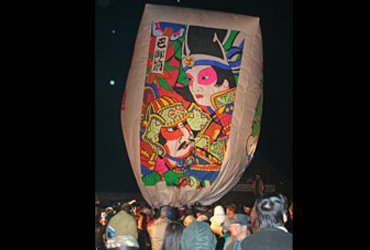 Warrior picture and beautiful images are drawn, a huge paper balloon wearing a lamp is the annual event dancing in the night sky of midwinter as twinkling star 's.
There is nothing that reservoir to write the beginning of this event. Gennai Hiraga is a scientist of the Edo era in the legend, when he visited the technical guidance of the copper mine, it is said to be told as a play based on the principle of a hot-air balloon.
Previously (those that put the fire loading the rice straw in the rice field, DONTO baked, also referred to as a top brush) bumper crops and wife safety the hope "insect-baked" at the same time is carried out, has been positioned as ethnic faith heritage. The event, which was interrupted one time scissors the war, by the enthusiastic efforts by volunteers of local Kamihinokinai, revived at Miyata in 1974, became a winter tradition that represents the Akita Prefecture.