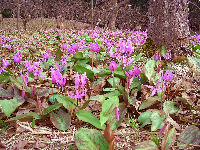 Katakuri is perennial plant of the lily family in the local called "Katakko," "Katanko". Are native to Kuribayashi to grow Saimyoji chestnut of specialty, the scale applies even 20 hectare (Tokyo Dome 4.2 pieces of).
This as the reason for the gregarious so much, day is improved by pruning and thinning of the chestnut tree, also it is thought to be due to compost in a thorough fertility management is in nutrients suitable for gregarious. Katakuri it takes about eight years before flowering from germinating, and the seeds are carried by ants.
Over the early May from mid-April "Hachitsu, legs bowed in Katakuri clumps of Township" will be opening of the park.