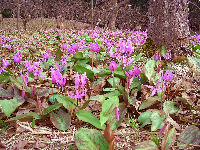 Katakuri is a perennial plant of the lily family called "Katakko" and "Katanko" in the local area. It grows naturally in the chestnut forest where the specialty Saimyoji chestnuts are cultivated, and its scale is as large as 20 hectares (4.2 Tokyo Domes).
It is thought that the reason why the chestnuts have grown so far is that the chestnut trees have been pruned and thinned to make them sunny, and that the compost has become a nutrient suitable for the clusters due to thorough fertilization management. It takes about 8 years from germination of erythronium to flowering, and seeds are carried by ants.
From mid-April to early May, the "Yatsu / Kamafoot Katakuri Community Town" will open.