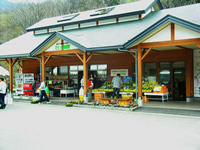 We sell seasonal vegetables, mountain products, and vegetables. In autumn, we will also sell Japan's largest "Saimyoji chestnut" (autumn only) and its processed products.
At the light meal corner, you can enjoy homemade dishes made by the farmers' mothers using their own rice and vegetables. Soft serve ice cream made with special spinach, chestnuts and buckwheat is popular.
A seasonal taste festival is held on the third Sunday of every month.