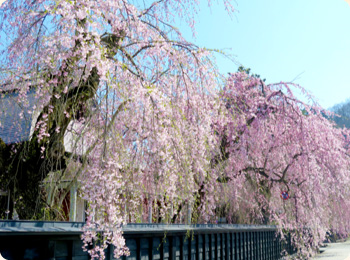 Shidarezakura decorate beautiful samurai residences
Dates back to before the Edo era from now about about 350 years.
Second generation of Kakunodate Satake family, in the trousseau was brought from Kyoto Sanjonishi the house at the time of your marriage is the wife of Yoshiaki, there were the three of cherry tree seedlings.

It is passed down the years is the original, has been reported to have become the "Shidarezakura of Kakunodate" that remains until today.