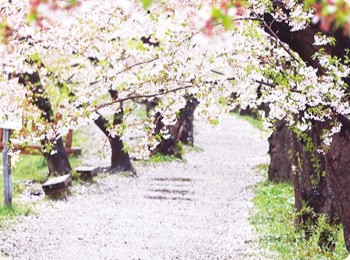 Cypress Uchikawa banks of the Someiyoshino(national scenic spot specified)
Tunnel of cherry tree spanning the entire length of two kilometers.
Someiyoshino in full glory in a cypress Uchikawa bank that flows through the center of town.

1934 (1934) to it is an opening was planted to commemorate your birthday of Emperor Majesty.
At present, it has been designated as a national scenic spot.
Someiyoshino also is strong on the environment, because it has a feature that put a pink white flowers so as to cover the whole tree before the green of young leaves are out, the state decoration branches in splendid petals at the time of full bloom There are very impressive.