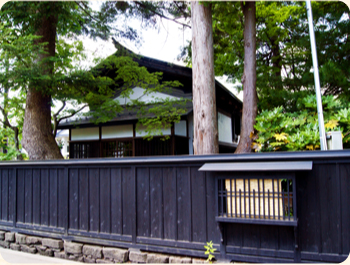 Another samurai residence street Kakunodate
When Ashina (Ashina) house was the town building in 1620, the samurai residences group of inner-cho separately, you will be in the town of the south district "Tamachi" live the samurai of 80 flag. They were samurai I got a stipend from Akita feudal lord Ujinao Satake Minister.
1656 Satake north house is adapted to govern the Kakunodate, who moved up residence in the inner city, we are divided and those who receive a stipend from the Satake north house.

Tamachi samurai mansion, but it does not specify the country of preservation district, blackboard wall that remains from the old days, the cherry blossoms in spring, autumn leaves, it is worth seeing.