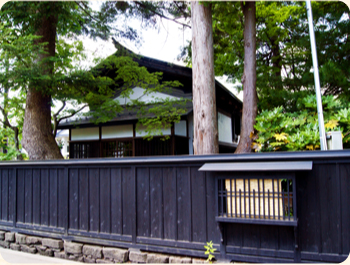 Another samurai residence street in Kakunodate
When the Ashina family built the town in 1620, 80 flag samurai will live in "Tamachi" on the south side of the town, apart from the samurai residences in the inner town. They were samurai who received the grace from Naomi Satake, the lord of the Akita domain.
In 1656, the Satake Kita family came to rule Kakunodate, and they were separated from those who moved to Uchimachi and those who received the grace from the Satake Kita family.

The Tamachi Samurai Residence is not designated as a national conservation area, but the old blackboard fences, spring cherry blossoms, and autumn leaves are spectacular.