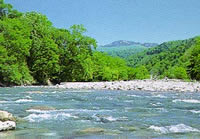 Sawa flowing through the Hachimantai to the source is, begin to become ish river it is around the Tamagawa Onsen. Sewing a deep green hardwood, it is flowing into the Tamagawa dam lake. At times dynamic green and clear stream of virgin forest, Carousel exudes a sometimes delicate beauty.
Please note warning about the black bears haunt has been issued.
Kazuno, Semboku City, Tohoku forest management station, in areas where off-limits signs are installed, we have taken steps Iriyama prohibited. Tamagawa mountain stream will also be Iriyama prohibited area within the interval. By fatal accidents due bear, it is Iriyama measures of prohibition for accident prevention in the district that is determined to be dangerous. Thank you for your understanding and cooperation.
* With regard to haunt situation of the black bear, Please check the "beauty of the country Akita net".