We will stop the holding of the following "Kakunodate winter or".
It was the decision of in view of the status of the national new coronavirus infection.
Customers had been looking forward to the holding, thank you kindly for your understanding.
History also "Kakunodate history guide people"

is

Kakunodate this

year,

the Origin of cherry of the beautiful weeping cherry tree,
It tells the lifestyle of Snow Country
❆❅❄❆❅❄❆❅❄❆❅❄❆❅❄❆❅❄❆❅❄❆❅❄❆❅❄❆❅❄❆❅❄
Dates: 2019 December 1 (Sunday) to 2020 March 31, 2008 (Tuesday)
※ every Friday, Saturday and Sunday during the period, holidays, etc., held two times a day.
(Part 1 11:30 Part 2 13:30 to journey takes about 30 minutes)

Venue: samurai residences "Iwahashi house"


Entry fee: Free (we will admission to visitors order)



※ Please see the leaflet for details ⇊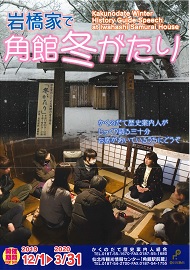 (835KB)
※ date and time other than the calendar, you will be charged.
To up to 3 days before those who wish, please make a reservation by phone or fax to the following contact.
(It will be announced at a later date for the number of persons and rates)

◎ Contact

Kakunodate Rekishi Annainin Kumiai Phone: 0187-55-1670
Fax: 0187-55-5411
Semboku City Tourist Information Center "Kakunodate Ekimae-Gura" Phone: 0187-54-2700
Fax: 0187-54-1755