The following "Kakunodate Winter Story" will be cancelled.
The decision was made in light of the nationwide situation of new coronavirus infections.
We appreciate your understanding if you are looking forward to the event.
This year too, "Kakunodate History Guide" is

the history of Kakunodate, the origin of beautiful weeping cherry blossoms,
Talk about how you live in a snowy country
❆❅❄❆❅❄❆❅❄❆❅❄❆❅❄❆❅❄❆❅❄❆❅❄❆❅❄❆❅❄❅❅
Date and time: December 1, 2019 (Sun) -March 31, 2020 (Tue)
* Held twice a day on Fridays, Saturdays, Sundays, and holidays during the period.
(Part 1 11: 30-Part 2 13: 30-Time required is about 30 minutes)

Venue: Samurai residence "Iwahashi family"

                          
Participation fee: Free (Admission is in order of arrival)



* Please see the leaflet for details ⇊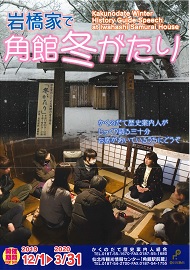 (835KB)
* A fee will be charged for dates and times other than the itinerary.
If you wish, please make a reservation by phone or fax at least 3 days in advance.
(We will inform you about the number of people and fees at a later date)

◎ Contact information

Kakudate History Guide Association Phone: 0187-55-1670
Fax: 0187-55-5411
Semboku City Tourist Information Center "Kakunodate Ekimaezo" Phone: 0187-54-2700
Fax: 0187-54-1755