【schedule】
◆ We will not hold the "Reiwa Mizubasho Festival" in the 4th year of Reiwa.
* Please note that this may change depending on the infection status of the new coronavirus and the policies of the country, prefecture, city, etc.
[Event details]
◆ About walking in the Mizubasho colony of Sashimaki Wetland
Since the festival will be canceled, events such as folk songs, hand dances, and musical accompaniment, food and drink, and sales of special products will not be held.
It is possible to park in the parking zone attached to National Highway No. 46 and the adjacent parking lot, and you can walk along the wooden path of the marsh.
A temporary toilet will be installed (schedule is being adjusted)
A bear was found in the marsh in mid-April 3rd year of Reiwa. Please be careful when taking a walk.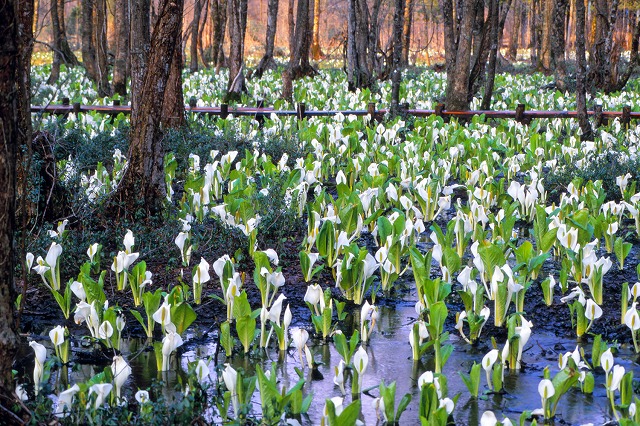 [Please cooperate with measures against new coronavirus infections]
◆ Please take general preventive measures against infectious diseases ・ Wearing a mask, washing hands, disinfecting hands, social distance, avoiding three cs, etc. ・ Utilization of COCOA (contact confirmation app)
◆ Safety measures
・ On Saturdays, Sundays, and holidays from April 10th to May 1st, security guards will be placed near the parking lot entrance.
◆ If you have a fever or other symptoms
・ If you have a family doctor → Call your family doctor before going to the clinic
・ If you do not have a family doctor → You can consult with the new Akita Corona Consultation Center (24-hour response: Phone: 018-866-7050) or at the next hospital in Semboku City.
However, please do not visit the hospital directly and be sure to make a telephone consultation before visiting the clinic.
Municipal Kakunodate General Hospital Phone: 0187-54-2111 24-hour response Municipal Tazawako Hospital Phone: 0187-43-1131 Mon-Fri 14: 00-16: 00
◆ Link / Download
Guidelines for safety measures related to new coronavirus measures, etc.
Thank you for your cooperation in preventing the spread of the new coronavirus (PDF: 428KB).
◆ [Livestreaming] ▼
Mizubasho colony of Sashimaki Wetland
◆ Inquiries: Semboku City Tazawako Tourist Information Center "Folake" Phone: 0187-43-2111
For other information on flowers in Semboku City, please see "Akita Flower Travelogue" ⇊