For the first time in three years, the "Lake Tazawa Ryujin Festival" will be held based on the legend of Princess Tatsuko and Hachirotaro related to Lake Tazawako!
The 50th anniversary of the Ryujin Matsuri will include various stage performances and talk shows, as well as the "Lake Tazawa BBQ (limited to 30 people)," which features local ingredients such as Semboku City bear meat and Tazawa yam, as well as a kitchen car. It is full of fun events such as gourmet corners.
In addition, water fireworks will be revived, coloring the night sky and lake surface of Tazawako at night.
Tatsuko Festival
July 16th (Sat) 10:00~
At the place where Tatsuko was born (inside the hospital), a graveside (shinto ritual) will be held to introduce this year's role of Tatsuko.
(After the ritual, visit the Statue of Tatsuko dedicated to Okura Kannon)
Safety prayer festival/marriage prayer
July 16 (Sat) 14:00-
A prayer festival will be held at the event square to pray for the unchanging safety of the lake, marriage, and family harmony.
Installation of the dragon body
The head part of the dragon body, which is said to be the largest in Japan, will be installed in the event square.
Installation period: July 16th (Sat) to 31st (Sun)
★Event on Saturday, July 30
Gourmet square by kitchen car (also held on 29th and 31st)
Opening period: July 30 (Sat) 11:00 to 21:00
July 29th (Friday) and 31st (Sunday) 11:00-15:00
"Lake Tazawa☆BBQ" uses local ingredients such as bear meat from Semboku City and Tazawa Chinese yam.
July 30 (Sat) 12:00-13:30 ( Advance reservations required , limited to 30 people)
For more information, please visit the Lake Tazawa Ryujin Festival Facebook page.
Click here for BBQ reservations
various stages
We will have performances and talk shows♪
Lake Tazawa Fireworks 19:30-Scheduled
This is a fireworks display sponsored by the Tazawako Fireworks Executive Committee.
Water fireworks will be revived in collaboration with the Omagari Junior Chamber 50th Anniversary Project "Underwater Fireworks ~ICHI NO HANA~".
★

Ryujin SUMMER

will be held again this year!
Participate in photo contests and stamp rallies and get wonderful prizes!!
Implementation of Ryujin SUMMER Photo Contest
Post a "shining" image using a mini torii on Instagram and get a prize (accommodation ticket / experience worth 50,000 yen)!
* Submission period: Saturday, July 16th to Sunday, August 21st
*Examination/announcement/shipment: Scheduled for early September
Ryuin Festival (stamp rally)
Stamps will be stamped at affiliated stores around Tazawako, and prizes will be won by lottery.
Implementation period: Saturday, July 16th to Wednesday, August 31st
* The mount is installed at the member store / information desk (Folake/ Ekimae storehouse)
* Just submit the application to the member store!
*Lottery and shipping: Scheduled for mid-September
Click here for mount data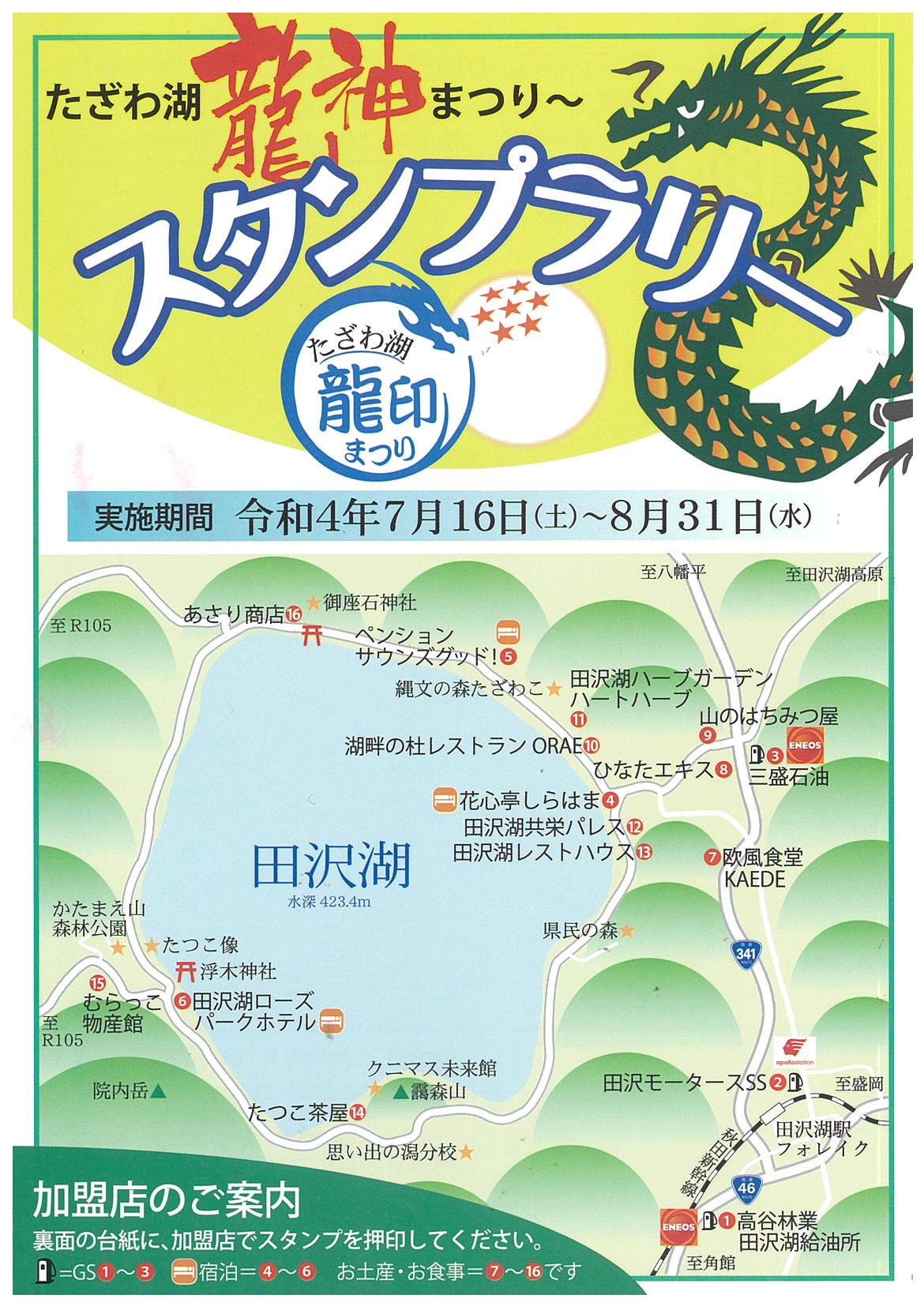 venue
Tazawako Event Square
organizer
Lake Tazawa/Ryujin Festival Executive Committee (Tazawako/ Kakunodate Tourism Association Tazawako Branch)
access
Car: About 60 minutes from Morioka IC
Public transportation: Take the Ugo Kotsu Bus "Tazawako Ichishu Line", "Nyuto Line", "(Express) Tamagawa Line", and "Komagatake Line"
About 12 minutes from the Tazawako bus stop
Contact information
Semboku City Tazawako Tourist Information Center "Folake" Phone: 0187-43-2111
Link