There is no written record of this event, but legend has it that Gennai Hiraga, a scientist in the Edo period, introduced it as a game that applied the principles of hot air balloons when he visited the copper mine to give technical guidance.
Over 100 giant paper balloons lit by lights with images of samurai warriors and beauties drawn with wishes for the year, such as good health, bountiful harvests, and safety at home, look like twinkling stars. It is an annual event that dances in the midwinter night sky.
■ Date ▶February 10, Reiwa (Friday)
■Venue ▶ Nishikicho Kamihinokinai Aza Daichida (paper balloon square)
Access: Take the Nairikusen from Kakunodate station , get off at Kamihinokinai station, and walk for 7 minutes (approximately 45 minutes)
■ Program ● Venue opens: 16:00
・Shinto ritual ・Wish writing paper balloon corner (launch at 19:00)
●Greetings from the Chairman of the Preservation Committee・・・16:30
Guest Greetings (Semboku City Mayor/Chairman)
●Elementary and junior high school paper balloons...17:00
●Simultaneous launch・・・18:00
● Write a wish and raise a paper balloon…19:00
●Final launch: 20:00
* The fireworks launched at this event are being carried out using the "Regional Revitalization Grant for New Coronavirus Infectious Diseases".
■ [Notice about parking lot]
Due to the lack of snow, it is difficult to compact the snow in the parking lot, so the number of vehicles that can be parked is about 300.
Please check the link below for the latest parking information.
*The information provided is current as of January 31, 2023.
2023 paper balloon parking lot location map
Due to the expected congestion, please use the Akita Nairiku Jukan Tetsudo .
Businesses operating buses for group tours, etc., and those arriving in large campers, etc., need to reserve a parking lot in advance.
For reservations, please contact the Nishiki Tourist Information Center (contact information below).
Contact information ▶ Nishiki Tourist Information Center (R4 December 27th (Tue) - R5 February 9th (Thursday))
℡ 0187-42-8480
February 10th (Friday) Inquiries on the day ▶ Kamihusenkan
℡ 0187-49-2201 or 0187-49-2159
■Click here for event details and the Nairikusen timetable (PDF)▼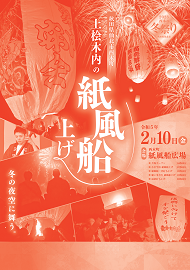 (2.75MB)