Katakuri Gunsei no Sato in Reiwa was closed on Friday, April 28th.



Thank you for coming to many customers.
From now on, the village of dogtooth violet colonies will be turned into a chestnut orchard for the autumn harvest. Since it is private property, please refrain from entering the park after it is closed. Thank you for your cooperation.
schedule
The 5th year of Reiwa"Katakuri Colony Village" isSaturday, April 15th From Saturday, April 8Scheduled for April 30 (Sun) April 28 (Friday)
*Please note that there may be changes due to the infection status of the new coronavirus and the policies of the country, prefecture, city, etc.
Event details
About Yatsukamatari Katakuri Colony Village
The dogtooth violet of Nishiki-cho, which blooms with lovely flowers after many years.
About 20 hectares of Saimyoji chestnuts, a local specialty, are covered with a beautiful light purple carpet.
Among them, a pure white dogtooth violet appears quietly.
Feel the refreshing spring sunshine and spend the relaxing time in Satoyama with adorable Katakuri.
Opening hours 8:00-16:00
Entrance fee 300 yen
About walking in Katakuri-no-Sato
Food and beverages will not be sold in Katakuri Hall, but product sales are planned to be carried out at the eaves.
Katakurikan toilets are available.
The roads in the hometown of the dogtooth violet colony are one-way.
Location: Yatsu, Nishiki-cho, Kamatari Katakuri Colony
For details, please check the Katakuri Museum website .
Please cooperate with measures against new coronavirus infections such as hand washing, gargling, hand disinfection, social distancing, and avoidance of the three Cs.
For more information, please visit the official website of Semboku City ▼
Katakuri Colony Walk Map (PDF data) ▼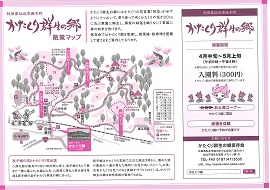 (946KB)
Nairikusen temporary stop and temporary train timetable (PDF data) ▼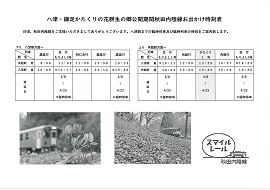 (617KB)
Contact information
・Tazawako/ Kakunodate Tourism Association Nishiki Tourist Information Center Phone: 0187-42-8480
・ Katakuri Museum Phone: 0187-47-3535
The skunk cabbage of Tazawako Thashimaki, the katakuri of Nishikimachi, and the cherry blossoms of Kakunodate are being updated in "Akita Flower Travelogue" .