schedule
The Sashimaki Mizubasho Festival in Reiwa will be held from April 10th (Monday) to May 1st (Monday). Please note that it is subject to change.
Event details
Strolling in the Mizubasho trout colony of Sashimaki Marsh
Special product sales are scheduled from April 15 (Sat) to May 1 (Mon).
Food and drink sales are currently adjusting the schedule.
It is possible to park in the parking zone attached to National Route 46 and in the adjacent parking lot, and you can take a walk on the wetlands and wooden paths.
Install temporary toilets. (April 10th to May 1st)
In Reiwa, bears were confirmed in the wetlands. Please be careful when walking.
Please cooperate with measures against new coronavirus infections such as hand washing, gargling, hand disinfection, social distancing, and avoidance of the three Cs.
For more information, please visit the official website of Semboku City ▼
Flyer of Mizubasho trout colony (PDF data) ▼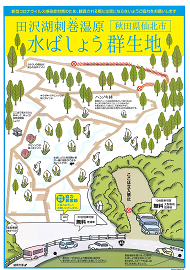 (688KB)
Contact information
Semboku City Tazawako Tourist Information Center "Folake" Phone: 0187-43-2111
The skunk cabbage of Tazawako Thashimaki, the katakuri of Nishikimachi, and the cherry blossoms of Kakunodate are being updated in "Akita Flower Travelogue" .