Deals campaign that the charter price of the target bus, taxi, three section railway of Akita Prefecture is the maximum half! !
〇 details here
On this occasion, Guests staying scheduled to Semboku City, Ya Akita Nairiku Jukan Tetsudo
Chartered bus, taxi to a spacious deals journey is - Why!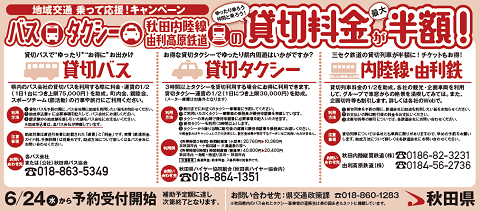 ※ reservation will be terminated as soon reached the auxiliary estimated amount.
[Contact Us]
Prefecture Transportation Policy Division TEL: 018 over 860 over 1283