The illuminated front yard of the Nishinomiya family will be used as a stage, and the actors in the Warabi-za will perform a samurai mini-stage as a samurai or tradesman from the Edo period.
Please enjoy the space as if you have traveled back in time to the Edo period by co-starring the streets of Kakunodate and the samurai.
---
Date and time

: Saturday, September 19th and Saturday, September 26th, 2020
1st ♦ Open 17:50 Start 18:00
2nd ♦ Open 18:20 Start 18:30
* The Samurai Mini Stage is scheduled for about 15 minutes for both the first and second times.
* From the perspective of preventing the spread of new coronavirus infection, we will limit the number of viewers for both the first and second visits in order to avoid three crowds. Pre-registration is required for viewing, and customers will be replaced after the first stage.
Venue

: Akita Kakunodate "Nishimiya Family" front yard (when it rains, it will be held at the Nishimiya Family Main House)
Viewing is free. If you would like to see it, please call the Warabi-za Reservation Center to apply.


* Reception will be from 8:30 on September 3rd.
Click here for details (PDF data) ⇊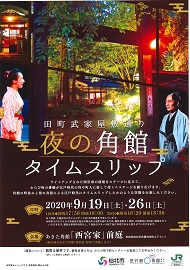 (1.84MB)