Resemble a write-up Nishinomiya house vestibule on the stage, we fought the samurai mini stage actor of Warabiza is dressed in the Edo era of the samurai and townspeople.
Please enjoy the space as if it were time slip in the Edo era by the co-star of the streets and the samurai of Kakunodate.
---
Date:

September 19, 2020 (Saturday), 26 days (Sat)
First time ♦ Doors open at 17:50 raising of the curtain 18:00
Second time ♦ Doors open at 18:20 raising of the curtain 18:30
First time ※, both Samurai mini stage a second time is scheduled for about 15 minutes.
※ In order to avoid a three-tight from the point of view of the new coronavirus infection to prevent the spread, the first time the number of viewers, will be limited to the second time both. View it as a pre-application system, we will replace the customer after the completion of the first stage.
Venue: Aki was Kakunodate"Nishinomiya House" vestibular (rainy weather will be carried out in Nishinomiya house the main house)
Ferris is free. If viewing desired, please apply by phone to Warabiza reservation center.


※ The reception is open from September 3, 8:30.
Learn more (PDF data) ⇊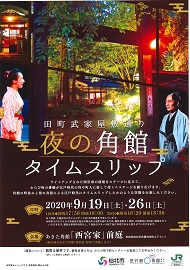 (1.84MB)