While feeling faint spring of footsteps ... "Kakunodate chick Tour"
✿ The historic Kakunodate, including old chicks ToruTamotsuhiyoko and Kokin chicks that have been for generations carefully handed down, has been left a number of dolls of teaching chick and soil doll.
✿ please hope you like "chick Gozen" "Hinagashi" of colorful named after dolls.
● ask with respect to the new coronavirus infection ●
For infectious diseases to prevent the spread, please help us to wear masks, hand disinfection of the finger.
By the situation of infection there is the case that the contents of the change and the exhibition is canceled.
※ The exhibition undetermined facility. Since I updated from time to time, please understand.
※ There is a case to change the exhibition period by store circumstances so please ask.
◎ Contact ◎

Semboku Commerce and Industry Association Kakunodate Headquarters ☎ 0187-54-2304 (except weekends and holidays 9:00 to 15:00)

Semboku City Tourist Information Center "Kakunodate Ekimae-Gura" ☎ 0187-54-2700 (during the period 9:00 to 15:00)


※ of "Kakunodate chick Tour" for more information,
Learn of the brochure (PDF data) ⇊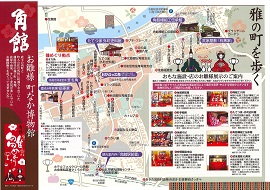 (Medium 2.07MB)


✿ "Kakunodate chick Tour business" pre-open shop and exhibition period List

Exhibition facilities and exhibition period ↓↓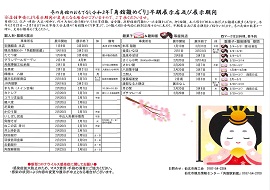 (PDF215KB)

✿ exhibition shop and dine the (confectionery) map Please use (PDF data) ⇊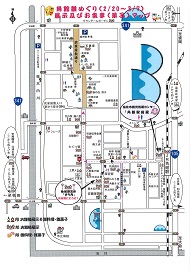 (PDF1.04MB)