Shizukuishi / Tazawako/ Kakunodate area
Get

a pamphlet with a reward coupon
Let's get a good deal! !!
Use of "Winter Support Love Campaign" privilege coupon
From Wednesday, December 1, 2021 to Sunday, April 10, 2022!
For hot springs, gourmet food, and shopping! Lots of great deals! All 65 posted!
Click here for the pamphlet (PDF data) ⇊
Coupons can be used even if printed out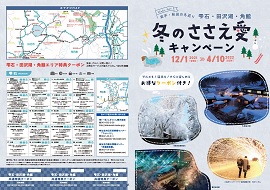 (1.23MB)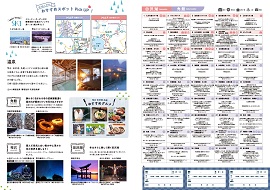 (1.33MB)
Pamphlets with coupons are available at the Shizukuishi, Tazawako, and Kakunodate tourist information centers, as well as
Some are installed at roadside stations and tourist facilities.
You can also use it by printing it out.
---
Furthermore

, [Winter support

love

campaign]
Gift certificate

5,000 yen

present
Limited to Iwate and Akita citizens!
Gift certificates will be given to

90

people in each prefecture (

180

people in total) by lottery! !!
Gift certificate 500 yen x 10
90 people each in Iwate and Akita prefectures will be presented by lottery to a total of 180 people * Shizukuishi area 2,000 yen / Tazawako/ Kakunodate area 2,000 yen / 1,000 yen common to both areas
* Gift certificates can be used at the 65 facilities and stores listed in the [Winter Support Love Campaign] pamphlet with bonus coupons (PDF posted above).
● Application periodNovember 7th-November 21st

⇒The application has been closed
● Lottery shipping November 27 * Winning results will be replaced by shipping.
● Usage period December 1, 2021 to April 10, 2022
● Application conditions ① Only WEB applications are accepted.


・ ・ ・ ・ ・

② Residents of Iwate and Akita prefectures.


・ ・ ・ ・ ・

③

One application per person.
● Application is limited to the WEB

Please see the poster for details (PDF data) ⇊ * Available facilities are 65 stores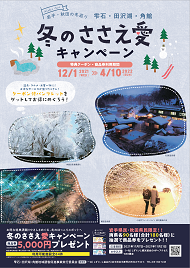 (1.29MB)