Tazawako/ Kakunodate
Winter

is

the outing

campaign!
This winter, go to Tazawako/ Kakunodate for a great deal!
Click here for member stores where accommodation tickets, tourist tickets, and common tickets can be used (updated 3/21) PDF data ⇊
Available in Semboku City!
Limited 3.000 set
In order to avoid congestion, it will be sold by prior application (lottery).
Accommodation voucher ¥ 1.000 voucher x

3
Sightseeing ticket ¥ 1.000 ticket x

3
Common ticket ¥ 1.000 ticket x

4
A total of 10 pieces will

be sold as a set for ¥ 10.000 for ¥ 5.000

!
Save 50%!
You can purchase up to 1 set per person.
---
【How to buy】
Only advance application using the application-only WEB form
The application has been closed on November 26th (Friday).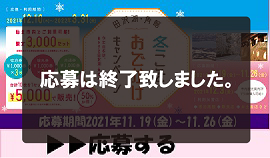 Winners bring a voucher
Please purchase at the exchange sales point.
【Application period】
2021 11.19 (Friday) -11.26 (Friday) ⇒It has ended.
[Exchange purchase ticket shipping date]
2021 12.3 (Friday) ⇒Lottery due to the large number of applications. I have shipped it.
[Exchange / use period]
2021 12.10 (Friday) -2022 3.31 (Thursday)
[Exchange sales location] (9: 00-17: 00)
♦ Semboku City Tazawako Tourist Information Center "Folake"
♦ Semboku City Tourist Information Center "Kakunodate Ekimae-Gura"
♦ Nishiki Tourist Information Center (excluding Saturdays, Sundays, and holidays)
[Available facilities]
♦ Accommodation ♦ Restaurant ♦ Souvenir shop etc.
Please see the leaflet (PDF data) ⇊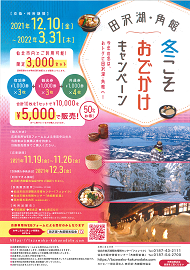 ・ You cannot purchase daily necessities or fresh foods. ・ You can use it only by local payment. ・ You can also use experience, admission, taxi, etc. ・ Cash cannot be exchanged, so please do not change.
【 correction 】
The "

Akita Premium Accommodation Voucher

" at the bottom of the leaflet is


The usage period has expired on August 31, 2021

.
It is possible to use it in combination with the current Akita Winter Discount Campaign and other discount systems, so please check with the accommodation facility before using it.