This year too, the "Setsubunsai" will be held to bring in

"fortune"

!

[Date] February 3, 4th (Thursday), Reiwa
[Place] Shinmeisha precincts
[Festival] 3:30 pm
[Awarding lucky bags] Around 4:20 pm We will award lucky bags (lucky beans, rice cakes, etc.) to all worshipers free of charge. (Up to one bag per person)
* We do not sow beans as a preventive measure against new coronavirus infections.
   * The number of lucky bags is limited.
When worshiping, please keep a distance so that worshipers do not get crowded, and wear a mask before coming to the venue.
Click here for the Setsubunsai flyer (PDF data) ⇊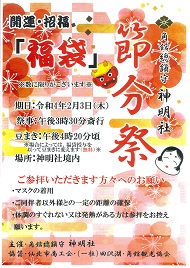 (563KB)
The photo was taken last year.