[Experience both children and adults in the game! SDGs Workshop Held]

This event is a workshop where you can deepen your understanding of SDGs through "games".
There may be many people who say that SDGs seem to be difficult. If you want to learn SDGs, try "Get The Point", a game with simple rules that children can understand.
One of the attractions of this game is that children and adults can play at the same time. We look forward to your participation.
[Date and time] Wednesday, July 27, 2022
13: 30-15: 00 (reception starts at 13:00)
[Venue] Semboku City Hall Kakunodate Government Building 2nd Floor 201/202 Meeting Room
[Participation fee] Free [Target] Third grade and above
[Capacity] First 36 people
[Organizer] (One company) Semboku City Agriculture and Mountain Village Experience Promotion Council
[Cooperation] NTV Video Corporation
Click here to apply for participation ⇊
https: //docs.google.com /.../1i1Nrh8he8EDgzs889QCDRd9 ... / edit
* This council is registered as an Akita SDGs partner.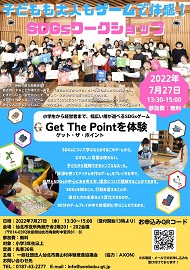 (PDF 0.98MB)
○ Contact information ○
(One company) Semboku City Agriculture and Mountain Village Experience Promotion Council TEL0187-42-2277
✉ info@semboku-gt.jp