【schedule】
September 7 (Wednesday) to 9 (Friday), Reiwa
[Event content]
● About implementation in Reiwa
Regarding the "Kakunodate-Matsuri no Yama-Gyoji" held on September 7th, 8th and 9th every year, due to the influence of the new Reiwa infection, the implementation of the Hikiyama festival, the installation of the stage, and the Regarding traffic regulations, etc., in Reiwa, the "Hikiyama Responsible Meeting" formulated on August 10, Reiwa , "Measures to prevent infection with the new coronavirus infectious disease and heatstroke during Hikiyama production work and Hikiyama operation" "Guidelines for countermeasures" were confirmed at the " Kakunodate-Matsuri no Yama-Gyoji Executive Committee" held on August 22, Reiwa , and at the same time, " kakunodate no Omatsuri, prevention of new coronavirus infection, prevention of heat stroke・Guidelines for Temporary Store Operations" have been decided, and it has been decided to carry out operations as usual as much as possible while taking sufficient safety measures, including measures against infectious diseases.
● Safety measures
1. Overall ・In order to prevent the spread of infection, please take basic infection prevention measures (wearing a mask when necessary, washing hands, avoiding the three Cs, and ventilating).
・"Request for basic new coronavirus infectious disease measures" from Akita Prefecture
Please comply with (link → https://www.pref.akita.lg.jp/pages/archive/49988 ).

2. Operation of Hikiyama, etc. ・We ask that you comply with the "Guidelines for measures to prevent the spread of new coronavirus infections and heatstroke during Hikiyama production work and Hikiyama operation" provided to each town by the Hikiyama Managers' Meeting. increase.

3. To all tourists ・Please refrain from viewing if you have symptoms of a cold, or if you are feeling unwell, such as over 37.5℃ or over 1℃ above normal.
・"Response based on the basic response policy" indicated by the Cabinet Secretariat's New Coronavirus Infectious Disease Control Office
Please comply with (link → https://corona.go.jp/emergency/ ).

4. For businesses planning to operate temporary stores ・A business license under the Food Sanitation Law is required (Akita Prefectural Government, Living Environment Department, Sanitation Division)
(Link → https://www.pref.akita.lg.jp/pages/archive/3473   )
・Basic matters regarding the operation of temporary stores (1) Store openings, etc. during the festival period are the responsibility of each business operator.
(2) Each business operator shall apply for permission for business that requires administrative procedures (Food Sanitation Law, Fire Service Law).
No business is permitted without a permit.
(3) Business is limited to private land and private land, and business is not allowed on roads (including sidewalks), public facilities, and facilities. However, if it is operated by a local government, etc., it can be done after consultation.
(4) Employers should manage the physical condition of workers.
(5) In addition to disinfecting hands, please thoroughly implement infection prevention measures and measures against crowds and close contact.
(6) In addition to stores, when setting up tables, chairs, etc., thoroughly practice social distancing, such as limiting the number of users.
(7) Appropriate measures will be taken against users who engage in nuisance behavior, including excessive drinking, long hours of use, and loud conversations.
● Event details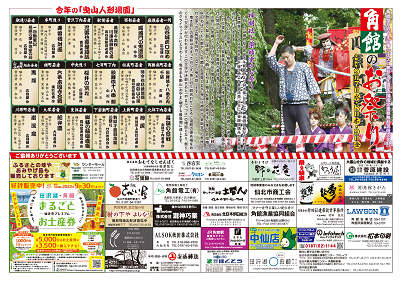 2022 "kakunodate no Omatsuri" Leaflet ① (PDF: 986KB)
1. Details of the festival Every year from September 7th to 9th, the festival is held in conjunction with the festivals of Kakunodate Sozanmori Shinmeisha and Mt. A large float is pulled around the townscape that remains from the Edo period. (National Important Intangible Folk Cultural Property "Kakunodate-Matsuri no Yama-Gyoji" UNESCO Intangible Cultural Heritage "Yama, Hoko, Yatai Event")
For details, see "kakunodate no Omatsuri"
(Link → https://www.city.semboku.akita.jp/sightseeing/spot/07_kakumatsuri.html )

2. Schedule [ 9/7 (Wednesday)]
10:00 - Shinmeisha Annual Festival 16:00 - Visit Shinmeisha Shrine 18:00 - Shinmeisha Annual Festival Yoimiya [ September 8 (Thursday)]
8:00- Shinmeisha Mikoshi Passing 10:00-17:30 Satake North House Viewing 15:00- Joju-in Yakushido Festival Opening Memorial Service 16:30- Visit Joju-in Yakushido 18:00- Sightseeing Yamabatsu [ 9/9 (Money)】
7:10~ Jojuin Yakushido Mikoshi Parade 10:00~ Jojuin Yakushido Visit 10:00~ Hikiyama Hikiyama

3. Notice of traffic restrictions during the kakunodate no Omatsuri Due to traffic restrictions during the festival, those who fall under the restricted area should use the temporary parking lot at the former Kakudaka Ground, the Higashi Community Center parking lot, and Ochiai Stadium. .
A parking permit will be issued for the former Kakudaka Ground Temporary Parking Lot. If you are a local resident or working within the restricted area, please apply at the Semboku City Tourist Information Center "Kakunodate Ekimae-Gura" or the Tourism Division on the 2nd floor of the Kakunodate Government Building at City Hall. Hours are from 9:00 to 17:00, and "Kakunodate Ekimae-Gura" is also available on Saturdays and Sundays.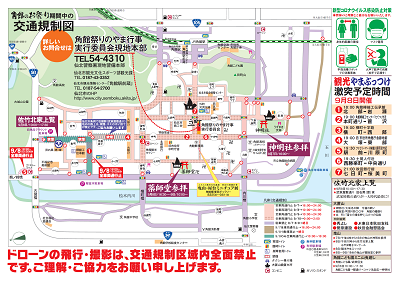 Traffic regulation map during kakunodate no Omatsuri(as of August 18, 2022) (PDF: 577KB)

4. Sightseeing Yamabuttsuke Scheduled time of clash [September 8]
(1) 18:00 North - Iwase (in front of Kakunodate Kabazaiku Densyokan)
(2) 19:00 Honmachi-dori - Sugasawa (near Tatetsu, Kakunodate Kabazaiku Center Ltd.)
(3) 19:00 Yokocho-Western (Yokocho Crossroads)
(4) 19:00 Otsuka - East (in front of the site of the former Kakunodate City Hall)
(5) 19:30 Ekimae - Kawaramachi (near Family Mart Kakunodate Kawaramachi store)
(6) 7:30 p.m. Nishikatsura-cho – Chuo-dori (near earthen floor)
(7) 21:00 Nanukamachi - Sakuramicho (in front of Akita Bank)

Five. Installation of Ookiyama and Mini Hikiyama Exhibition [Location]
・Tatemachi: Two Legends of "Mt.Fuji's Maki-gari" (Kakunodate Kigata)

・Shorakusan Jyojuin Yakushido: Town division 400 years Kakunodate town territory (Hiromeya)

・Kakunodate Sochinju Shinmeisha: Osaka Winter Siege Battle of Imafuku (Hiromeya)

・Kakunodate Children's Center: Mini Hikiyama Shingen Takeda (Tsutayakai)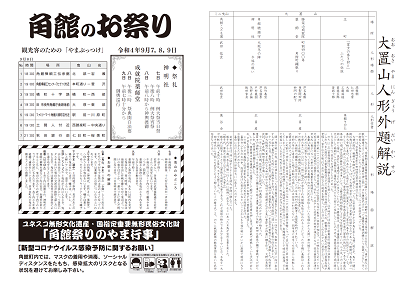 Commentary on Okiyama dolls (PDF: 460KB)
Kakunodate Kakunodate-Matsuri no Yama-Gyoji Executive Committee
・kakunodate no Omatsuri Preservation Society ・Kakunodate Festival Hikiban Council ・Hikiyama Manager Meeting ・Semboku Commerce and Industry Association of Commerce and Industry
・Semboku City
・Semboku City Board of Education ・Tazawako/ Kakunodate Tourism Association (executive committee secretariat)
[Download link]
● Contact information
・Semboku City Tourist Information Center "Kakunodate Ekimae-Gura-gura" Phone: 0187-54-2700
・Semboku City Tourism, Culture and Sports Department, Tourism Division Telephone: 0187-43-3352
・Semboku City Tourism, Culture and Sports Department Cultural Properties Protection Office Phone: 0187-43-3384