[Semboku City winter of premium tourist tickets] is available here merchants ⇓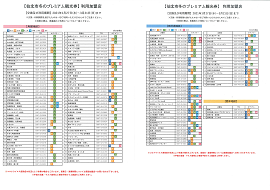 (753KB)
Akita Prefecture residents only! !
"Semboku City

winter of premium tourist ticket"

in accommodation and dining options,


50% Discount is available

in the souvenir shop!
Trying to cheer Semboku City everyone bought a tourist ticket!
We will assume

sales by pre-application

for congestion avoidance

(lottery).


★ Please apply in 1 round-trip postcard.
(Akita Prefecture residents alone have a one-time applicants)

[Application period has ended]
       Thank you a lot for your application.
Since the lottery shipping date will be January 25 (Monday), Please wait for a while now.

★ sold in 2 1.000 yen ticket × 10 sheets 10,000 yen ⇒ 5,000 yen! !
(Limited 4,600 set)
★ 3 submission period: 2021 January 12 (Tuesday) - 2021 January 19, until (Tuesday)
Postmarked lottery ship date: January 25 (Monday)
[Exchange and use period] 2021 January 27 (Wednesday) to March 21 days until (Sunday)

[Point of sale] Semboku City Tazawako Tourist Information Center "Folake"
Semboku City Tourist Information Center "Kakunodate Ekimae-Gura"
Nishiki tourist information office (Katakuri Hall) ※ every Saturday Closed
[About the use of Semboku City winter of premium tourist ticket]
① this ticket is not available in other than merchants.
② expiration date of this ticket, January 27, 2021 (Wed) - 2021 March 21, 2008 and up to (day), which has passed the expiration date will be invalid.
③ can be available in local settlement only.
④ can not be exchange for cash, please use so as not to your fishing.
⑤ can not be reissued due to loss, theft or loss of this ticket.
⑥ transfer, resale of this ticket is not possible.
⑦ Although this ticket is possible combination of such other campaign,
As long as the local settlement.
⑧ things that are not in use subject of this ticket is as follows.
A. marketable securities, cash vouchers, voucher (beer coupon, sake tickets, rice coupons, a book coupon,
Voucher by a store to its own issues), travel tickets, train tickets, postage stamps, postcards,
Stamp, the purchase of those high cash property, such as prepaid card

B. Tobacco Business Law (1984 August 10, Law No. 68) purchase of tobacco products as defined in Article 2, No. 3, paragraph 1 (including the electronic cigarette)

Redeemed with C. cash, deposits to financial institutions

D. raw materials purchases and stocking of goods, in addition to the transaction relating to the assets and liabilities,
What tourism association is not deemed appropriate

Purchase of E. Date goods and fresh food


Details and the merchant list, please click here (PDF data) ⇊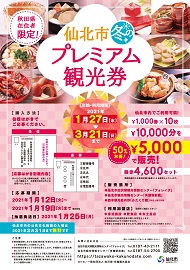 (Details PDF2.08MB)

⇊ use merchant list the latest information, please visit here ⇓

(PDF file)




★ Please contact: Those who participate would like to use the merchant
Contact
Semboku City Tazawako Tourist Information Center "Folake" ☎0187-43-2111
Semboku City Tourist Information Center "Kakunodate Ekimae-Gura" ☎0187-54-2700